Advantages of peanut microwave roasting machine
Compared with traditional roasting machine, peanut microwave roasting machine has the advantages of high energy conversion efficiency and fast heating speed. The food roasted is crispy and delicious with natural color and nice appearance. The machine also has insecticidal sterilization effect. The machine can be used for peanut drying with simple and solid structure, good air permeability and drying performance, suitable for roasting and drying all kinds of nuts like sunflower seeds, peanuts, pine nuts, cashew nuts, pistachios and so on.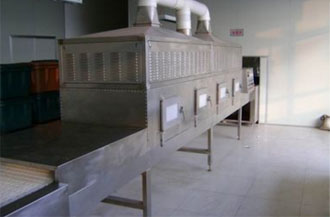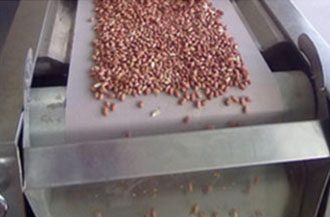 peanut microwave roasting machine


1. Short roasting time and the products are with strong fragrance, uniform and bright color.
2. Selective heating. Because water molecules have the best effect on microwave absorption, so the part with higher water content would absorb more microwave power than that containing low water content. This is the characteristic of selective heating. Rapid and uniform heating and drying can be achieved with this feature.
3. The steam direction of drying and dehydration of moisture is from the inside to the outside, so microwave drying has the function of puffing, which is of great help for the following crushing.
4. Environment protecting, energy saving and high efficiency. Microwave effects on the material directly, so there is no additional heat loss in the intermediate conversion links. The air in the stove and the container produce almost no heat. Therefore, the thermal efficiency is higher and the production environment is also significantly improved. Compared with the far infrared heating, 30% of energy can be saved.
5. Easy operation and advanced technology. Compared with conventional method, the microwave roasting machine can be used once start without heat inertia, flexible and convenient to operate; microwave power can be adjusted and the transmission speed is also adjustable. In the microwave heating and drying, no waste water or waste gas is produced, which is a harmless high technology. It improves product quality and brings economic benefits. The temperature and noise of working environment of the equipment is low, which greatly improves the working conditions and saves the space.

In the past 10 years, microwave energy application technology is being widely used in the roasting of melon seeds, peanuts, walnuts, almonds, pistachios, chestnut and the shelling of peanut and chestnut. Compared with traditional way of production, nuts roasted by microwave energy are crispy and delicious, full puffed, natural in color and nice in appearance. It also has insecticidal sterilization effect. The microwave equipment can greatly improve the production environment, it is the ideal choice for enterprises to achieve civilized production and improve the product grade.
--------------------------------------------------------------------------------------------------------
Canadian customer ordered sweet potato roasting machine
The advantages of microwave roasting machine
Multi-layer chain plate drying machine
Single chain plate drying machine
How to prolong the service life of peanut roasting machine
Features of peanut roasting production line