Features of roasted peanuts production line
The food processed by roasted peanuts production line is crisp and delicious in full particles and with natural color and nice appearance. It also has the sterilization function. Comparing with traditional method of peanuts roasting, the peanut machinery has the following features.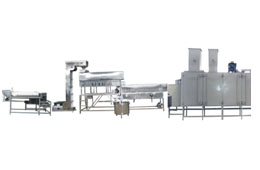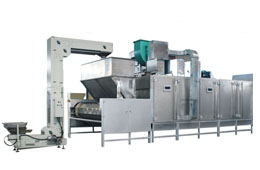 1. Fast and continuous work: with a few minutes of roasting time.
2. Easy to use and operate.
3. Improve the production environment: no waste heat, radiation, dust, noise or pollution, easy to reach the testing standard of food hygiene.
4. Extend the shelf life: heating with bactericidal effect. A relatively low temperature and satisfactory bactericidal effect can be obtained in a short period of time.

Peanuts roasted by peanut roasting production line are crisp with strong flavor and high rate of expansion. Peanuts after processing can keep the original color and its better appearance and quality raise the level of the product and enhance the competitiveness of the market.
-------------------------------------------------------------------------------------------------------
Multilayer food drying machine
The advantages of microwave roasting machine
Canadian customer ordered sweet potato roasting machine
Multi-layer chain plate drying machine
Single chain plate drying machine
The roasting principle of peanut roasting machine