Application of peanut roasting machine in peanut butter production line
Advantages of KL peanut roasting machine
Peanut roasting machine is one of the main products of our company, here is the advantages of the peanut roasting machine:
1 The peanut roasting machine is made of metal materials, which is compact in structure and easy to operate. It is a kind of combined roasting machine, it can be used alone or together with other machines. The peanut roasting machine is powered by a cycloidal reducer, through the transmission of chain to make the drum rotates for roasting.
2 The peanut roasting machine adopts the way of infrared heating to roast the materials by heat radiation from the pipe heaters.
3 The peanut roasting machine uses temperature control instrument to automatically control the working temperature of the machine, so that the working temperature is controlled within the set temperature range.
Welcome all customers come to consult and negotiate. We sincerely hope to cooperate with you, welcome to inquire!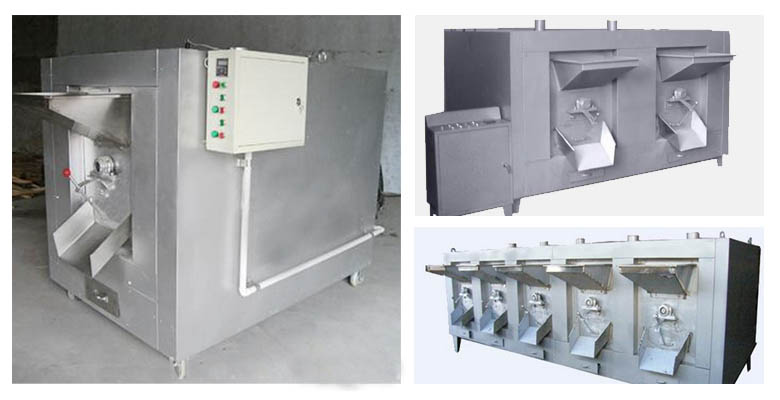 Introduction of Peanut butter production line:
Peanut butter production line technological process: roasting --- cooling --- peeling - selection --- grinding - mixing - -degassing - - cooling- - -filling
Peanut roasting machine: roasting of peanuts.
Cooling zone: cooling the roasted peanuts.
Picking zone: selection of substandard peanuts and some food residue.
Grinding machine: grinding the peanuts.
Condenser: cooling the roasted peanut butter after grinding.
Degassing tank: degassing the peanut butter before filling.
The peanut butter production line is characterized by the assembly line, high mechanization degree, good reliability, full closed production and no pollution. The peanut butter produced is up to export standards. Specific process and output can be customized according to customer requirements.
If you want to have a further understanding of the production line of peanut butter, please click here.