KL-5 commercial roasting machines
Application: for the roasting of granular nuts like peanuts, groundnuts, chestnuts, walnuts, almond, broad beans, soybean etc. In the process of roasting, materials in the drum are continuously pushed by the flow deflector. Continuous rolling of materials makes them being heated evenly and the roasting quality can be ensured. The roasted products are pure in flavor and good in taste. The production cost is lower ( the material is not exposed to the fire when roasting). Proved successfully in practice by a number of peanut products companies, the commercial roaster has the features of easy-to-use, durable and so on. The machine can be used alone or for groups.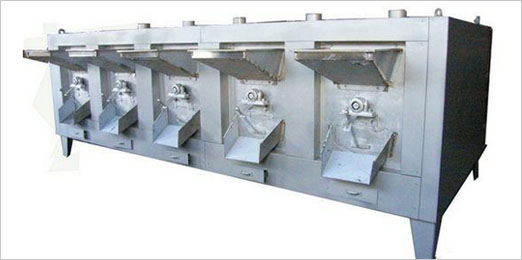 The roasting machine can be designed for using coal, electricy and gas as its fuel according to customer request.

This commercial roasting machine is designed with three kinds of heating methods: electric heating, coal heating and gas heating. The roasting machine is composed of a driving part, an electric heating pipe, an electric control box, a drum box and a drum. A temperature controller is used for controlling the temperature inside the roasting machine automatically. With the advantages of high degree of automation, low noise and no pollution, the roasting machine is an ideal processing equipment for roasting peanut, hazelnut, cashew, almond, melon seeds, sesame seeds, pistachios and other granular foods. This roasting machine can be customized according to customer's demand. Feel free to call us.
How to install gas roasting machine correctly?
1. The roasting machine should be more than 200mm away from the wall, and 150mm away from the main gas source(hoses connecting the machine).
2. Wiring: single-phase power (220V), multi strand copper wire with diameter of Ф2.5 square mm, a miniature circuit breakers of 16A and tighten the screws of the circuit breaker when wiring to prevent electric leakage.
3. The gas pipeline: according to the requirements of the user units when connecting pipes (safety, convenient), connected with Ф25 seamless tube. Flexible connection: connect with a Ф25 gas hose, with special clamp to clamped and fastened. When the two methods above is connected, make a pressure test according to the standard, check whether there is leak to ensure the safe use of gas. Supply hoses should be inspected and replaced regularly. When you find that the hose is yellow, hard or damaged, you should replace it in time. The longest time for using a hose is no more than 2 years.