Maintenance tips of peanut roasting machine
Peanut roasting machine is an indispensable equipment when roasting peanuts, melon seeds and chestnut.  What should be paid attention to in the daily maintenance of peanut roasting machine?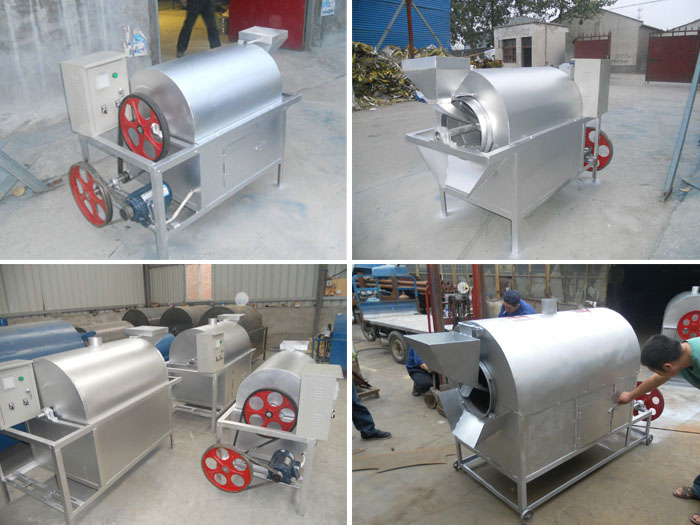 1. Multi-function peanut roasting machine
The multi-function peanut roasting machine produced by our company can adopts gas heating, coal heating and electricity heating methods. It is suitable for processing all kinds of dried fruits and nuts, such as chestnuts, peanuts, melon seeds, pine seeds, hazelnuts, almonds, rapeseed, coffee bean, sesame and herbs in shopping malls, supermarkets, food stores, chain stores, street food, etc.

2. Maintenance of peanut roasting machine
How to maintain the peanut roaster machine in a more scientific way? Below, we would share some tips on how to maintain the peanut roasting machine:
(1) Before starting the peanut roaster machine, the oil filter of the equipment should be filled with engine oil. Check whether the worm gear box is short of oil every week, and oil should be added timely.
(2) The machine must turn when it is heating up. Before turning off the electric furnace, the machine needs to turn for 5 ~ 8 minutes.
(3) If the screen is found to be damaged, the outer cylinder of the discharging port should be removed and make up the 12 mesh screen.
(4) Turn off the air switch when stopping the machine per shift. If the machine is not used for a long-term, all the materials in the machine should be removed and drop a small amount of oil on the feeding mouth and make the machine rotating continuously for three minutes to avoid the cylinder from rusting.

Peanut roasting machine can be used to roast chestnuts, peanuts, melon seeds, walnut and other dozens of nuts and seeds. It has the performance advantages of multi-usage, environmental protection, heat preservation and heat insulation, convenient, labor and time saving, higher yield, etc. Currently, the peanut roaster is the most ideal nut roasting equipment.

----------------------------------------------------------------------------------------------------------
Belt type sunflower seeds roasting machine
Single chain plate drying machine
Chain Plate Food Dryer Machine
Belt type food drying machine, pepper drying machine
Characteristics of microwave roasting machine