The peanut roasting machine with cheap price is the professional equipment suitable for roasting all kinds of dried fruits and nuts, such as chestnuts, peanuts, melon seeds, pine seeds, hazelnuts, almonds, rapeseed, coffee beans, dates, sesame seeds, walnuts, all kinds of beans, wheat, rice, etc.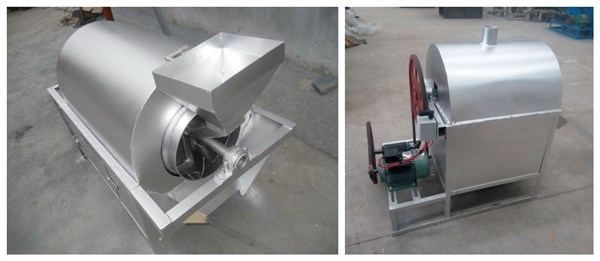 Application of peanut roasting machine:
Leisure food: melon seeds, peanuts, cashew nuts, almonds, chestnuts, walnuts and so on.
Cereals processing: corn, sorghum, rice, glutinous rice, barley, wheat, buckwheat, mung beans, red beans and so on.
Oil extraction: sesame, rapeseed, soybean and so on.
Spices: chili, pepper, anise, fennel, etc.
Tea making: fixing and drying.
Pharmaceutical industry: Chinese medicine, Xanthium sibiricum, Atractylodes macrocephala and so on.
Chemical industry: drying and heating chemical raw materials.
Tobacco processing: raw material baking and processing.
Feed processing industry: raw material baking.
Main Features of peanut roaster machine:
1. Electronic ignition, safe and fast.
2. Configuration gas pressure reducing valve, automatically adapts to different sources of fuel gas pressure, guarantee stable fire.
3. Copper core gas furnace with service life up to more than 3 years.
4. Steel chain drive, stable and low loss.
5. Low noise, gear meshing.
6. Auto hot air and dust fog exhaust fan system.
7. All stainless steel easy to clean, attractive and durable.